PROJECT: EGIP: Great Western Route Modernisation Electrification
CLIENT: ABC Consortium/Network Rail
DATE: April 2019
DURATION: 36 Months
Initially through the ABC Consortium, and later via Network Rail direct, Route Section 6P is being carried out by WHRSL. It encompasses Bristol Parkway Station and interfaces with 3 other route sections and the new Hitachi Depot. The GRIP 4 commenced in April 2016 at value of £385k and was followed by the award of the GRIP 5 later that year.
WHRSL are responsible for the overhead line and earthing and bonding design and have interfaced with the following projects;
Signalling design performed by Lundys and Alstom for BASRe including 3 new signal gantries
Civil design works performed by BAM and Capita for the Bristol Parkway Project, including new station platforms, new line side and new embankment works
Track designs performed by Aecom for the Bristol Parkway Project, including multiple turnout locations and sidings
Interfacing with the privately funded Hitachi depot performed by Arup
Throughout the process we have ensured we provide a clear and concise design presentation which includes 3D BIM level 2 compliance. We have used the ELFF design tool to produce an initial design outline and utilised our skills and experience while working closely with both Network Rail and the construction contractors to maintain programme and delivery in a staged manner as necessary (whether that be to allow civils to finalise pile foundations for installation during possessions planned in early or for complex OLE area to mitigate delays).
PROJECT CONTROL AND RESOURCE
To deliver each aspect of the project close liaison between the client management and client engineering team was essential to understand the delivery timescales and the problems faced. A number of options were utilised in the delivery management of the project and these included technical queries, request for information and weekly face to face client interface meetings.
The work required was analysed and hours associated with each task was calculated. This was presented to the client using P6 planning software and constantly updated to ensure the correct resource would be available for each task along the project life cycle. By utilising the client interfaces, software and experiences within the project, forecasts could be completed and resources levels could be understood to enable the project to run as efficient as possible. This ensured competence levels were maintained throughout the project by delegating the resource appropriately to each task.
"Wentworth House contributed significantly to the successful delivery of electrification in the Bristol Parkway area.  The collaborative approach enabled a smooth flow of high quality design and an ability to respond to change quickly which made a challenging programme an achievable one."
Clive Porter,
Network Rail
Throughout the project WHRSL have maintained a constant level of support and quality. This can be especially seen on Route Section 6P where the original engagement was through the ABC Consortium and the good working relationships and continuity of the engineering team then fed into Network Rail direct. The collaborative working relationship forged with Network Rail was also mirrored in our work alongside the Balfour Beatty construction team. A strong relationship has been created based upon trust and understanding which has helped enable open and honest communication to address any issues upfront and to ensure all parties are informed of pertinent items on the critical path.
From an engineering perspective WHRSL have applied a pro-active approach to resolving issues and means of improving the processes adopted on the project. Examples on Route Section 6P include defining a suitable point in time for civil foundation design by others to be finalised to aid with programme pressures for their installation as well as identifying and utilising surplus stock from previous NR jobs and incorporating applicable material into our design to save procurement time and costs. Through our technical experience we reduced the size and quantity of over-sized portals on the exit of the Parkway station area via working closely with the signal designer to enable sighting compliance in what was previously an unresolved area.
To ensure innovation could develop within the project an internal collaboration review exercise was undertaken with each submission and during weekly project meetings. From these reviews additional ideas and tools could be developed on how to make designs more consistent, more efficient and improve quality and accuracy. We also discussed any design changes that were to be implemented due to client feedback and how it was best to approach.
The feedback from these collaboration meetings developed design and CAD tools that are being utilised on other projects within the business. These included but not limited to improved report writing templates, aide memoires, design spreadsheet calculation checks, macros to produce over bridge free running details, and improvement to designers risk assessments.
The success of these continual improvements can be measured by the reduction in DRN responses from the client and an increase in production levels by analysing the differences in hours required producing drawings.
Engineering Judgement Balance and Risk
During the Route Section 6P project the timescales to meet procurement dates and possessions for construction were challenging, so in some cases risk assessments on the suitability of pre-AFC design were undertaken to enable construction.
As an example for OLE structure designs, this process meant that we assessed;
The likelihood of the structure requiring a change in the future. So things like if a trial hole was done to confirm the position was clear of services / unsuitable ground etc. was reviewed and whether the structure was adjacent to an unresolved interface issue (such as a signal we did not have a design for so couldn't confirm if sighting would be achieved)
The severity of the consequence to the design, procurement and construction costs as well as any safety infringement if the final design needed to be different to the pre-AFC expectation
Based on the findings of the above types of engineering analysis, we would be able to advise the level of risk if pre-AFC designs were installed. During the project we did not receive any negative feedback on the assessments we provided following pre-AFC installations which suggested the engineering judgement was validated.
As mentioned previously a proactive working environment was fostered over time which allowed emergent change to be dealt with immediately as opposed to only after the formal commercial process had taken place. As such when emergent changes arose we discussed with the client the priorities of said changes and assessed the workload of the team to see if the requirements for the change could be met either in parallel with the teams current workload or via the use of additional resource.
In the cases where neither of the above were options we would assist in determining a means of releasing critical elements of the change to either Network Rail or interfacing parties prior to the completion of the full change requirement (for example we would release structure loads and co-ordinates upfront to enable the foundation designer to progress their works). This occurred relatively frequently so the practice of handing over upfront information which we then confirmed was still accurate upon completion of the design task (in terms of ensuring other parties design was based on sound information) became a familiar process for us which we have applied against other projects since.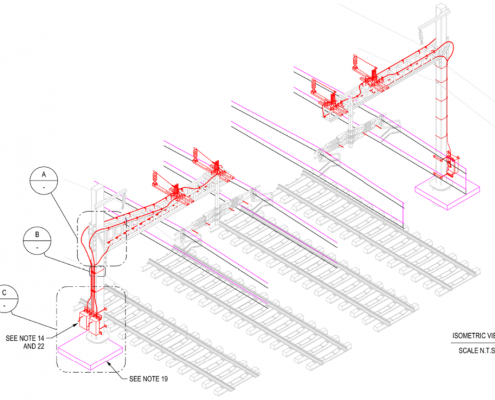 https://railelectrification.com/wp-content/uploads/2019/03/Plans.png
738
975
https://www.railelectrification.com/wp-content/uploads/2019/03/Asset-1.png
2019-03-24 23:43:22
2019-05-28 08:49:38
Great Western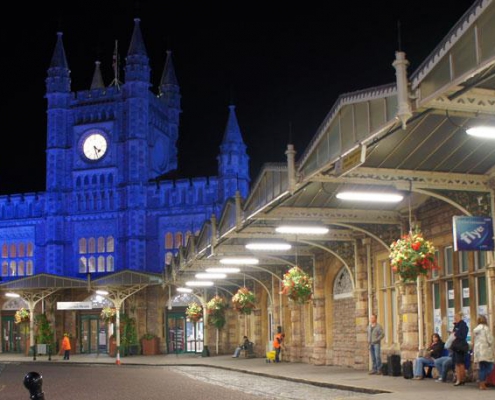 https://railelectrification.com/wp-content/uploads/2019/03/download.jpg
457
948
https://www.railelectrification.com/wp-content/uploads/2019/03/Asset-1.png
2019-03-24 23:20:33
2019-05-28 08:46:10
Bristol Temple Meads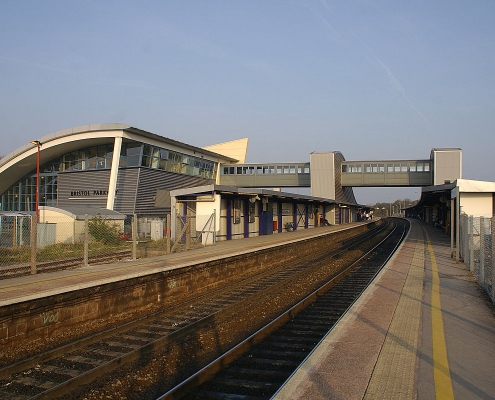 https://railelectrification.com/wp-content/uploads/2019/03/Bristol_Parkway_railway_station_MMB_07.jpg
800
1200
https://www.railelectrification.com/wp-content/uploads/2019/03/Asset-1.png
2019-03-24 22:03:22
2019-05-28 08:45:44
Bristol Parkway
Sign up to our Newsletter